Falcons Vs Rams 2019 Anyone Could Guess Where This Game Goes
No, But seriously? Can anyone guess where this game is going? Falcons vs Rams 2019 will be an interesting one. I don't know if this is the type of game where you could bet on anything. Or predict anything. So I won't even try but will give a break down of what happened last week. And look ahead to what both teams need to do Sunday in Atlanta Vs Rams 2019 for a win.
Two NFC teams without impressive records. The 1-5 Atlanta Falcons vs the Rams of Los Angeles who sit with a 3-3 record. LA does not have a strong record lately, against the Falcons or anyone. Coming off back to back losses the Rams will look to win for the first time in Atlanta in over 18 years. One thing that might be more recent was their 2018 Playoff loss. Atlanta handled them easily at home 26-13.
Those were two different teams back then. And they might even be two different teams from last week. Atlanta faced a team they probably should have beaten. And had a chance to beat the Arizona Cardinals and the Rams. They got embarrassed by a vastly superior on all sides of the football, San Francisco 49er's team. That might I add looks to be very legit. Falcons Vs Rams 2019 should give us a good view of what the Rams really are.
Rams Completely Dominated at "Home" to 49ers
Legit indeed! The Los Angeles Rams were held to 165 Total Yards on offense. Cap that off with 0-9 on 3rd Down and 0-4 on 4th down with a Turnover and that doesn't leave much for the imagination.  Honestly, this game didn't leave much for anything for the Rams. They will need much better Falcons Vs Rams 2019.
The 49ers were the dominant team. After going 3 and out on their 1st drive and giving up a Touchdown to the Rams. A rather impressive drive mind you of 7 plays 56 yards. Talking 3:36 of the clock and rushing for every yard. Ending with an 8 Yard yard Robert Wood TouchDown on an end-around.  That was all the Rams could muster and they will need more come Sunday Falcons Vs Rams 2019.
It wasn't an overall impressive performance on offense for the 49ers. Jimmy Garrapollo did enough to win his team the game and that's what he has been doing all year. Couple that with a dominant defense and the 49ers are tops in the NFC. Time will tell if they can continue this but some stats against the Rams might show how dominant they have been.
Jared Goff was held to 78 Yards on 13/24 passing. Malcolm Brown had only 40 yards on 11 carries for less than a 4-yard average. The best stats of the day would probably go to Johhny Hekker who had 5 Punts for a 53.8 avg. Yeah, the Punter. I guess you could say Aaron Donald had a good game with two sacks and maybe Marcus Peters with an INT. Peters won't be helping out the Rams anymore, but we will get to that.
Falcons Lose Heartbreaker To Cardinals
Atlanta's terrible season continues. They will look to make it better in week 7 Falcons Vs Rams 2019.  The Falcons are coming off a loss to the Arizona Cardinals that could have been avoided. And the only thing they needed to force overtime was an extra point. It basically has summed up their season so far.
They deserved overtime after a 7 play 75-yard drive going into the 3-minute warning. But a missed extra point by Matt Bryant led to a 34-33 loss. They had a chance to get the ball back for Matt Ryan and Julio Jones but their defense couldn't stop the Cardinals.
Hopefully Falcons Vs Rams 2019 will provide a bit more luck for Atlanta.
The offense isn't the problem. Matt Ryan threw for 356 yards and 4 Touchdowns completing 30/36 of his passes. Austin Hooper and Julio Jones were both over 100 yards receiving on 8 catches. Devonta Freeman had 19 rushes for 88 yards and 3 receptions for 30 yards and 2 TDs.
.@AtlantaFalcons v @AZCardinals how do you not account for the running back? How can any defense be this confused? I promise not to show anymore assignment errors but this season can turn around when these breakdowns stop. #BaldysBreakdowns pic.twitter.com/QUilVIdhnO

— Brian Baldinger (@BaldyNFL) October 16, 2019
What will be the question for Atlanta will be the defense? They have given up yards just as fast as Ryan and the offense can gain them. The Falcons have 5 sacks to their opponents 14. They have 2 Interceptions to the other teams 7. They are winning the Fumble battle but it's not enough to cure their turnover difference.  Falcons Vs Rams 2019 will have to be different if Atlanta wants to get past one win.
Falcons Vs Rams 2019 Jalen Ramsey The Game Changer
The Rams made a big move this week. Trading shut down cornerback Marcus Peters to the Baltimore Ravens for LB Kenny young. They obviously had a plan in place. Soon after the announced, they had traded for Pro-Bowl corner Jalen Ramsey. Costing the Rams two 1st round picks and a 4th round. They were able to acquire Ramsey from the Jaguars. Owner Les Snead was more than pleased with the trade.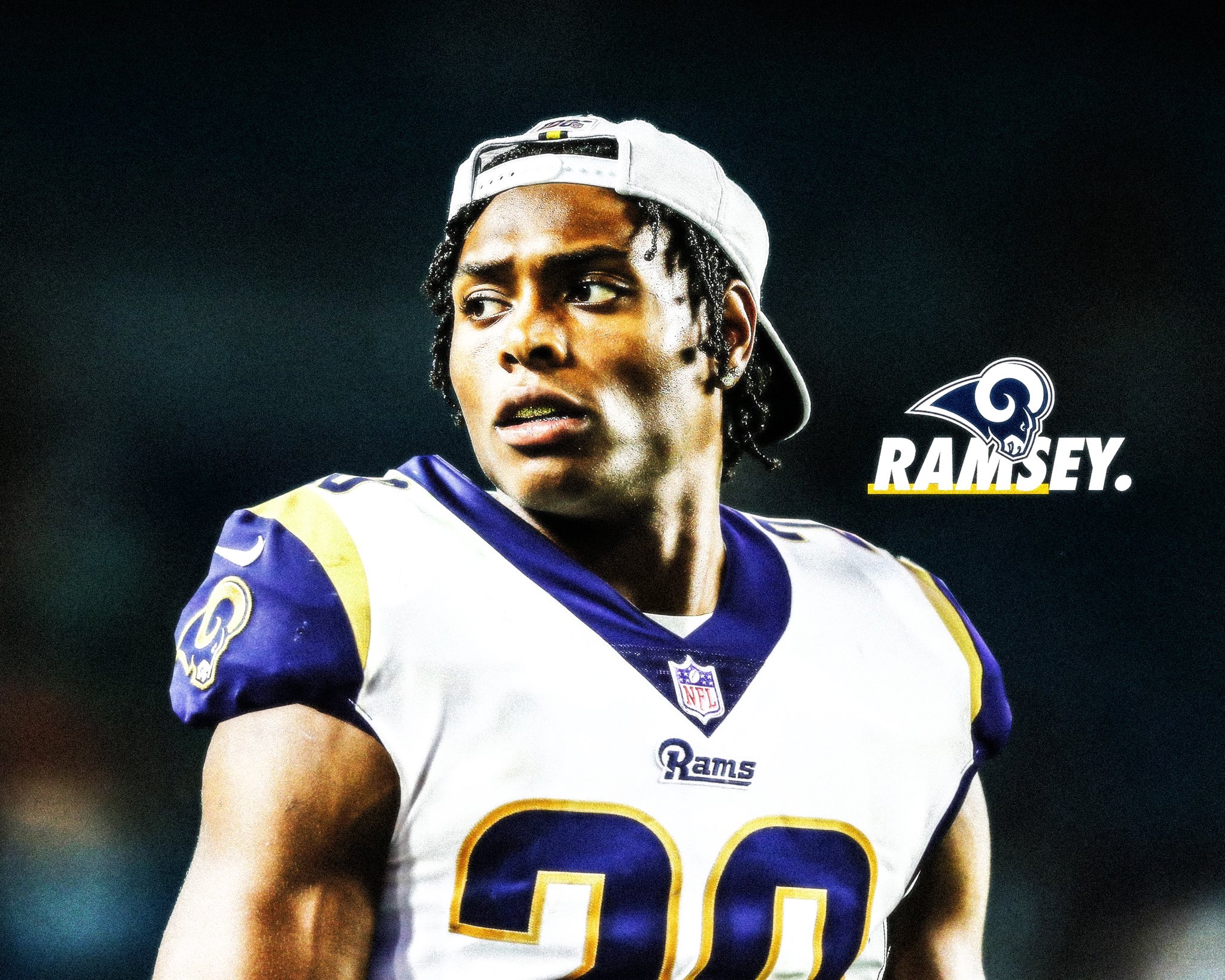 The defense hasn't really been the Rams problem this year but adding a player of that caliber won't hurt. Especially in Falcons Vs Rams 2019 this Sunday. It seems he is getting along quite well with his new teammates. Former Jaguars Dexter Fowler and Blake Bortles should welcome him right in. And he seems pretty happy to be in LA. Evident in his press conference as a new Ram.
#LARams LIVE: Jalen Ramsey Introductory Press Conference https://t.co/4FTs5O58Ff

— Los Angeles Rams (@RamsNFL) October 17, 2019
The Rams need big things from Ramsey going forward. If they have his services in further years will be up to Salary Cap. Which is why they need to get things down now. 3-3 has them sitting out of the playoffs. For a team that made the SuperBowl last year that won't do. Falcons Vs Rams 2019 will give them the chance they need to get back into the NFC West.
What Falcons Vs Rams 2019 Will Come Down Too
Falcons Vs Rams 2019 is going to come down to simple things for both teams. The offense for the Los Angeles Rams and Defense for the Atlanta Falcons. The Rams can't expect what happened last game to translate to anything. Which is why Sean McVay will need to make adjustments this week. I have no clue what Atlanta needs to do. Score 50 Maybe so their defense can rest and only let in 40.
Along with new cornerback Jalen Ramsey. The Rams also acquired Center Austin Corbett from the Cleveland Browns looking to help out their O-Line. An Offensive Line that has been plagued with injuries this year. All the Trades and Falcons Vs Rams 2019 will show us what the New Rams really are.
As for the Falcons, I don't really know what to make of their season. They should have more wins and have played better than a 1-5 record but they keep losing. If I said Matt Ryan and Julio Jones that gets me at least 8 wins. I don't think it will be the case this year. If they are on the decline now it might be hard for Atlanta to rebuild from this. Atlanta Vs Rams 2019 will give us a lot of insight into both teams.
Falcons Vs Rams 2019 should be a Sunday morning of big plays and highlights! And I am very excited about it! I want the Rams to come out on top. But I won't be holding my breath.
For More NFL Content Check out the AFC and NFC power Rankings by SportsTalkLine.com