Canada And Cuba Battle to an Uneventful 1-0 Canada win in the Caymans
Saturday yielded a nice 6-0 victory for Canada at BMO field but a 2710 km flight and only 2 days of rest might have hindered the squad a bit in their second match in 4 days against Cuba. Canada came out strong to start the game holding possession and looking to set an early tempo when Alphonso Davies fired in a lost ball just outside the box to the top right corner over Barrientos in the 9th minute.  Canada was down to 10 men shortly after the half and they controlled 82% of the ball so you think we would have some interesting things to get into. Unfortunately, that was not the case as after Canada scored to make it 1-0 they had very little in the form of actual chances.
Another look at Alphonso Davies' opening goal. #CANMNT 1:0 Cuba

🇨🇦🇨🇺 #CANMNT #CNL pic.twitter.com/Cf8cAjfWHW

— Canada Soccer (@CanadaSoccerEN) September 10, 2019
Canada made 5 changes to the squad that beat up on Cuba on Saturday and it looked to be more in rest than for anything else.  Canada slightly switched formations as well going from a 5-3-2 to a 4-2-3-1 looking to push  Sam Adekugbe and Laryea wide and downfield.
Cuba 🇨🇺 recibe a @CanadaSoccerEN 🇨🇦 hoy en #CNL. Aquí la lista con los 22 titulares del partido 👇 | #CNL #FollowTheDream pic.twitter.com/TOO0QRtqeU

— Concacaf Nations League (@CNationsLeague) September 10, 2019
Canada controlled the ball most of the first half but were only able to play the ball out wide and send it into Jonathan David and Kyle Larin who weren't able to make good enough contact, especially on a free header by Larin in the 38th minute. Cuba countered several times to no real threat and looked almost content to give the ball to Canada at every opportunity.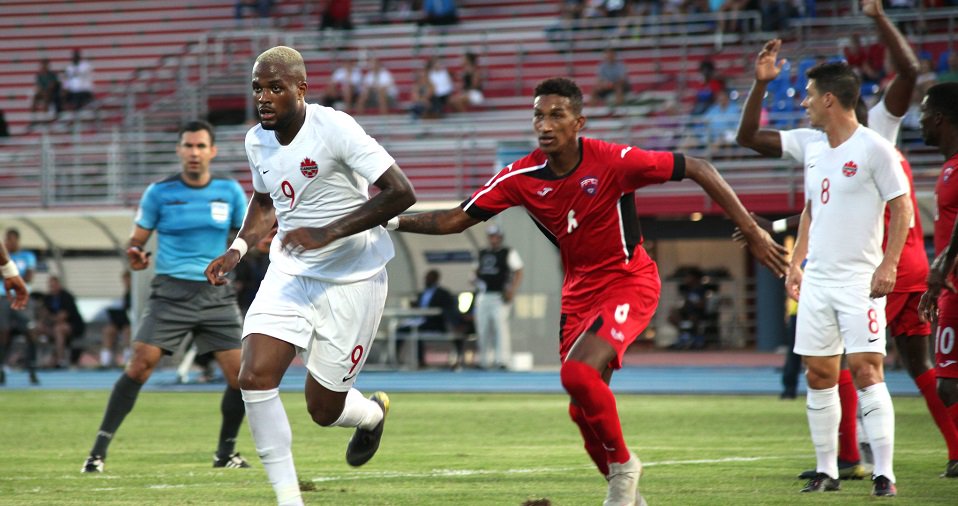 Canada Saw Red But Were Able to Keep it Cool
The second half came underway and when you thought that Canada might make some tactical changes it wasn't expected they would do it by losing a man. Early into the second half Guatemalan referee Mario Escobar showed a second yellow.  He wasn't being as generous with the whistle as Canada might have liked and WhitecapsFC defender Doneil Henry took a second yellow card for dissent after giving his thoughts about a no-call in the 55th Minute. It didn't seem to phase Canada as they improved their possession numbers from 78-82% after being down to 10 men. The only problem seemed to be the lack of Cuba to want to do anything else but have everyone behind the ball and defend. They did a very good job of only letting Canada get out wide and cross it into a clogged up middle. Canada made a change in the 61st to even out the back and get another Cap's player out there subbing out the struggling Larin for Derek Cornelius but it equaled to the same for the rest of the half.
Cuba was also feeling the heat so to say as they had 4 changes in their starting lineup. Aside from Keeper Nelson Johnson getting the nod getting the start over Sandy Sanchez the other 3 were players who had recently defected after the match in Toronto, defender Alejandro Portal, midfielder Andy Baquero and forward and captain Yordan Santa Cruz were left off the roster.  Cuba had little to throw at Canada and it showed with 753 pass attempts to a mere 112 but a lack of creativity in the final third led to a some would say disappointing 1-0 win.
Five Cuban footballers defect in Canada https://t.co/ACgdrPgo6G pic.twitter.com/16PWP0z9sO

— NTV Kenya (@ntvkenya) September 10, 2019
USA Will Pose A Huge Test for Canada's National Team 
"BMO Field [Canada] is our house and we have to make sure they feel that…Hope our crowd can come out and give us that Canadian edge" John Herdman said to reporters after the game in questions about the upcoming October 15th match Vs. the US Men's National Team. And in just over a month's time, Herdman's squad will have that chance against a very skilled US squad that will be imperative in Getting Canada anywhere close to 2022 World Cup Qualifying. Games at MLS "Rolls Royce" fields they are used to playing on while also leave nothing to be questioned after the game. Let's hope we don't get the same disappointment we did in October as we did in the Gold Cup.
For more on MLS content check out my article on the most recent Whitecaps Front office debacle.
Total Page Visits: 646 - Today Page Visits: 1