Jabrill Peppers – Safety – Michigan
DOB – Oct 4th, 1995
Height – 5'11"
Weight – 213 lbs
Click Here for NFL Combine Stats
Strengths:
Putting an old-school thumper in a freakishly athletic body is always a good thing. Enter Jabrill Peppers. Big hitter. Takes excellent angles. Relishes contact. Incredible burst to the ball. Total body control. Explosive. Excellent tackler. Will sacrifice his body to make a play. Electric kick-return skills. Physical in coverage. Good blitz instincts. Excellent in the box. A childhood fan of Hall of Fame DB Charles Woodson (never a bad thing). Loves the game.
Weaknesses:
Production. Detection skills. Ability to diagnose play in real-time. Will use his physicality to cover up bad technique in coverage leading to flags. Not a natural deep safety. Indecisive until the ball is in the air.
Giphy: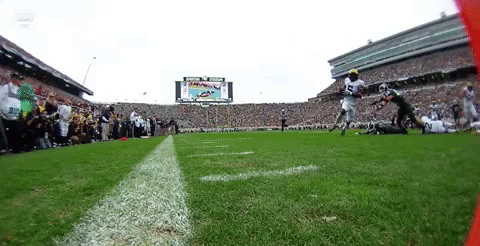 Pro Comparison:
Tyrann Mathieu
Overall Review:
Considering his off-the-charts athletic ability scouts are mystified at his lack of turnover production in college (1 interception). Once the ball is in the air he's a guided missile. Until then, however, he can be found thinking rather than moving. Against the run, he sees the play quickly and has an unworldly ability to knife through traffic to the point of attack. Regularly makes plays behind the line of scrimmage. His love for the game and ability to hit will make some team glad they decided to make the call on draft day.
YouTube Highlights:
What say you Sports Nation?
Another Left Coast Sports Post: on Twitter – Steven Van Over