T.J. Watt – Defensive End – Wisconsin
DOB – Oct 11 1994
Height – 6'4″
Weight – 252 lb
Strengths:
Motor. Vision. Instincts. Strong. Quick. Nimble. Athletic. Sudden. Disruptive. Blue-collar work ethic. Push-pull move that uses his incredibly strong hands and core as his go-to. Moves east-west with purpose as he quickly diagnoses flow and can weave through trash to close on his target. Excellent ability to shed blockers. Plays run and pass with equal enthusiasm and impact. Great hand game. 11 sacks in the Big Ten.
Weaknesses:
One year of production as an edge rusher after bouncing around at several positions through college. Like his brothers does not possess that elite first step or blinding quickness. Has to use technique and effort to get pressure. Sacks come when a play is not immediately open. QB has to hold the ball for a half-beat.
Glyphy: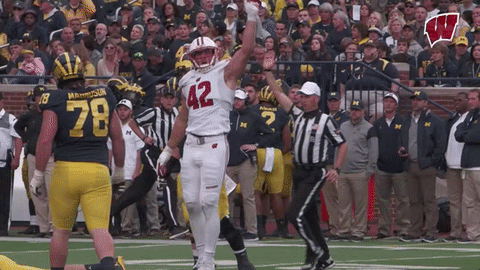 Pro Comparison:
OLB/DE Brian Orakpo
Overall Review:
Unlike his older brother, T.J. lacks the ideal size to hold up as a three-down defensive end right now as a prospect, but his versatility and the possibility of adding weight make Watt an intriguing option. He should be able to produce in a one or two gap system but his natural disruptive behavior screams out for one gap. For his size (6'4 250 lbs) you'd expect him to fit that speed rusher mold but he really doesn't. Much like his older brother, rather than an elite first step Watt wins with his length, upper body strength, and technique. T.J. has a motor similar to his brothers and while a team would likely use him as a pass rusher he has the versatility to play at linebacker too. As he works out for teams before the draft he has been doing drills at three positions showing the ability to play standing up or with his hand on the ground. Especially considering his family name this guy should make it into the first round.
YouTube Highlights: