Fabian Moreau – Cornerback – UCLA
Date Of Birth: April 9th 1994
Height – 6'0″
Weight – 206 lbs
Click Here for NFL Combine Stats
Strengths:
Sophomore honorable mention All-Pac-12 with 51 tackles Moreau had 10 pass breakups in 2016 after missing all but three games in 2015 due to a lisfranc injury to his left foot. Converted to DB from running back as a freshman he has the thick frame and ball skills of his former position. Fluid athlete with the ability to burst laterally. Quick feet and excellent long speed for those times he has to catch up to a receiver. Has the size, speed and upper body strength to matchup with bigger NFL receivers.
Weaknesses:
Press cover is his game. Other than some cover-3 he hasn't been asked to do much else. The good news is he's very good at it. The bad news is he's limited by scheme. He "should" be able to pick up zone nuances, but having to do so will impact his production at the next level as it takes time to pick up this skill set. Doesn't fully use his natural size/strength advantage. Still learning the position.
Glyphy: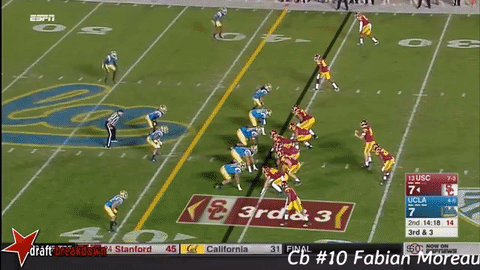 Here you see Moreau's ability to read the quarterback eyes, break on the football, and finish the play. A+ play here by Fabian Moreau.
Pro Comparison:
Stephon Gilmore
Overall Review:
A superbly talented cornerback, UCLA Fabian Moreau suffered a pectoral injury at his pro day on March 20th while bench pressing. The extent of the injury is still in question. Injury aside Moreau is a legit option late in the first round. He possess ideal size for a cornerback (6'0 205 lbs) and is a very fluid athlete turning in a great combine, running a 4.35 40, 38.0″ vertical jump, and a 136.0″ broad jump. The former UCLA Bruin is more than just a workout warrior though leading the Bruins with 10 pass breakups and 2 interceptions in his senior year. A solid open field tackler and a guy who can cover his man deep, shallow, or across the field with no limitations. Will excel early in a press-cover scheme.
YouTube Highlights:
https://www.youtube.com/watch?v=J4xOJVabZ2Q