Cincinnati Bengals 2020 NFL Draft Grades
The cats did well. With the number one pick of the 2020 NFL Draft in their pocket, they didn't do anything cute. The club stuck to their board each round and drafted a solid player. Very unusual for this club. These are the Cincinnati Bengals 2020 NFL Draft Grades.
Cincinnati Bengals 2020 NFL Draft Grades
1/2 Joe Burrow, QB, LSU - A-
2/33 Tee Higgins, WR, Clemson - A
3/65 Logan Wilson, LB, Wyoming - B
4/107 Akeem Davis-Gaither, LB, Appalachian State - A
5/147 Khalid Kareem, DE, Notre Dame - A
6/180 Hakeem Adeniji, OT, Kansas - A
7/215 Markus Bailey, LB, Purdue - A
QB Joe Burrow - 6'3", 221 lbs is not Peyton Manning, Andrew Luck or Jesus. He is Joe Burrow and he is damn good. He can make all the throws, seems to have his head on straight. He does not have a "cannon for an arm" but is a heady QB who knows how to do his job. Think Kirk Cousins with more size and less speed. He won't be the big-arm game changer but he can be a pro-bowl QB who can get the job done if you surround him with talent.
WR Tee Higgins - 6'4", 216 lbs, 34 1/8" arms had all the production you would want in college. He played all the WR positions, can run solid routes and has excellent hands. He can contest for the catch and has a HUGE catch radius, which he uses. He has long legs/speed and his separation is between cuts due to it. A.J. Green Jr. Fantastic pick.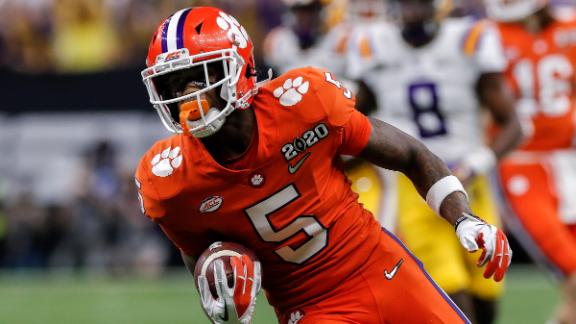 LB Logan Wilson - 6'2", 241 lbs 4.63 40 yard dash, 21 reps 225 lbs, 32" vertical had a heck of a collegiate career. He was 1st team all-conference and 3rd team All-American as a senior with 104 tackles, 9.5 for loss, 1 sack, 3 interceptions, and 6 pass breakups in 13 starts and that was a drop off from his previous season! The three-year captain is a work-a-holic, a great student, and will only get better no matter where you plug him in. He is a three-down guy you can put in your lineup and forget about.
LB Akeem Davis-Gaither - 6'1", 224 lbs, 21 reps 225 lbs was SBC Defensive Player of the Year in his senior season for the Mountaineers with 104 tackles, 14.5 for loss, 5 sacks, 1 interception, and 8 pass breakups. Almost forgot, he blocked a kick too. He may be a bit small, but he is a playmaker. He is a splash-play-king. Get him in the lineup on the weak side and until he gets that down let him be a special team ace.
DE Khalid Kareem - 6'4", 268 lbs, 34 3/8" arms he tied for the team lead in sacks (5.5) as a senior. He also led the Irish in total forced fumbles on the year with three. He has a perfect size, length, and strength to plug into the line on the strong side. He doesn't have that sudden first step, but a solid motor and will win with work.
OT Hakeem Adeniji - 6'4", 302 lbs, 33 3/4" arms, 10" hands, 5.17 40 yard dash, 26 reps 225 lbs, 34" vertical - all-conference, captain's letter, right AND left tackle. The versatile big man checks all the boxes and will most likely move inside at the NFL level. The Bengals got him in the 6th round.
LB Markus Bailey - 6', 235 lbs the walk on starter was injured his senior year but tabbed 115 tackles, 9 for loss, 5.5 sacks, and 1 interception as a junior. The knee is reportedly good to go and so is Bailey. You get that much production from a Purdue LB in the 7th round, you got a steal.
Cincinnati Bengals 2020 NFL Draft Final Grade - A+
When almost all of your picks are A's ... the plus gets added on. The top rounds were solid. I absolutely love some of the late round picks. Again, nothing fancy, Cincy just stuck to their board and brought the talent home. Well done.
Get more info on Drafted players here on Sports Talk Line. Check out NFL Draft Cards and become NFL Draft Insider!
Let me know what's your opinion on Redskins 2020 NFL Draft Grades.
How would you team's picks?
Do you like what you see or were you hoping to get someone different.
Follow me and send me a DM on Twitter and let's discuss!
Another Left Coast Sports Post
on Twitter: Steven Van Over
Explore More Sports Stories
Canucks Fall 5-2 To The Oilers On night two of the NHL season, the Vancouver Canucks fall 5-2 to the Oilers at
Check out Pelicans vs Clippers HIGHLIGHTS SUBSCRIBERS To Sports Talk Line Channel for more Sports Highlights and JOIN our Membership programs for
Check out Thunder vs Lakers HIGHLIGHTS SUBSCRIBERS To Sports Talk Line Channel for more Sports Highlights and JOIN our Membership programs for
Thank you for being here – We would like to ask for your help.
Sports Talk Line's independent sports journalism is a unique offering in the world of sports
. As we bring you independent sports content WE MADE A CHOICE and unlike many sports news organizations, we have chosen a methodology to operate that allows every reader access to this much needed independent reporting. We are sports fans ourselves, not suits on 5th avenue.
Every contribution, large or small, directly supports independent sports journalism
. Your support is what allows our incredible group of freelance writers to continue to hone their craft and bring you accurate sports news. But there is always a new month. We have to continue to receive support from our readers in order to keep this alive. Help us make independent sports journalism an ongoing reality. 
Click here to Support Sports Talk Line for as little as $1
– only a moment of your time to help keep independent sports journalism alive  – Thank you.