Andy Isabella
Wide Receiver
UMASS
Height - 5'10" Weight - 190 lbs
Twitter: @AndyIsabella5
Strengths:
Andy Isabella showcases great short area quickness and route running ability in all three levels of the field. Isabella is not just your typical slot receiver that runs the short routes underneath. Isabella has shown the ability to separate downfield using his speed, nuanced route running ability, and physicality at the catch point for a 5-foot-10 wide receiver. Lined up all over the field for UMass's offense, and even carried the football 40 times throughout his four years in college. Doesn't mind sticking his nose in the blocking game, and holds up well when asked to block in the running game. Showed great awareness to keep his feet in bounds when catching the football on the sideline, and in the endzone. Good feel for finding soft spots in zone coverage. Showed the ability to pick up yards after the catch due to his open field vision, and short area quickness. Showcased reliable hands inside his frame when working down the field, and across the middle of the field. Showed great head/hand movement when working in and out of his breaks to sell vertical, when working back to the football.
Weaknesses:
Struggled with drops, and double catches when catching the football outside of his frame. Struggles against physical corners that can throw him off his route. Will likely be limited to the slot in the NFL due to that lack of physicality in his routes. Can clean up some of his footwork at the top of his routes that will help him separating in and out of breaks at the next level.
Giphy: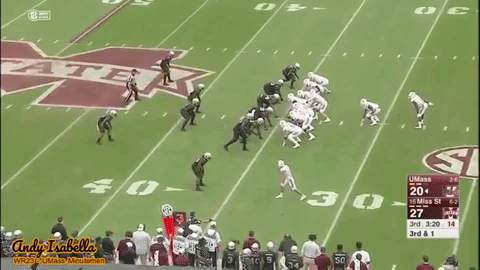 Overall Review:
Over the years, the NFL has adapted to the slot receiver and placed much more value on the position than in the past. Isabella has consistent hands, good route running ability, and is slippery enough after the catch to make plays with his feet. Isabella showed the ability to make plays in all three levels of the field out of the slot and lined up outside at UMass. Had great production (231 catches, 3,868 scrimmage yards, and 32 touchdowns), and increased production in each year at UMass. Can clean up some of the nuances in his route, to have even more success separating at the next level. Will have the opportunity at the Senior Bowl to lineup against some of the best corners in the country and showcase his skills there. Due to his size limitations, and lack of physicality throughout his routes, Isabella will need to show the ability to win in Mobile against bigger, stronger, and better corners.
YouTube Highlights:
STL Interview: