With just a few more days remaining, the latest NBA season will start without further ado. On July 31, 2020, the restart plan of the NBA will feature 9 Eastern Conference teams and 13 Western Conference groups who will contend in eight regular seasons. The winner for each division in both conferences will immediately take a spot in the play-ins.
With the NBA fast approaching, fans all over the world are excited to see another epic basketball match. Last year's champion, the Toronto Raptors, will try to dominate the NBA League by achieving a back-to-back win. Remember that the Raptors earned their first NBA title last year, dethroning the Golden State Warriors' two-year win streak.
Aside from the thrilling basketball matches, the fans are also looking forward to the best players on the floor. Although some players have already set an impressive record in their NBA career, each season holds different superstars in the lead. That said, let's get to know the lucky nine toughest NBA players who are part of the current NBA Title Odds 2020 eligible for a possible MVP title.
Giannis Antetokounmpo
Undeniably, the best NBA player to look forward to in the coming NBA season is Giannis Antetokounmpo. He's a forward player for the Milwaukee Bucks and had been playing for the team since 2011. This reigning NBA MVP awardee showed an impressive performance in five scoring categories: the rebound rate, PER (player efficiency rating), win shares, team scoring, and defensive shares.
LeBron James
Upon joining the Los Angeles Lakers in 2018, LeBron James has never failed to produce impressive scores. Although they failed in the play-ins, he's still one of the toughest players to look forward to in the upcoming NBA season. Apart from that, he's one of the best defensive players in NBA history and had recorded a career-high of 10.6 assists during his 17th season.
Kawhi Leonard
After the Los Angeles Clippers traded Kawhil Leonard from the Toronto Raptors last year, he immediately made an impact on the team's defensive rate. He was hailed as the Finals MVP last year as he improved a lot in his scoring. During the last NBA season, Leonard was averaging 26.9 points per game, which was a career-high for him. Moreover, his rebounds were 7.3 points and 5.0 points for all assists.
Kevin Durant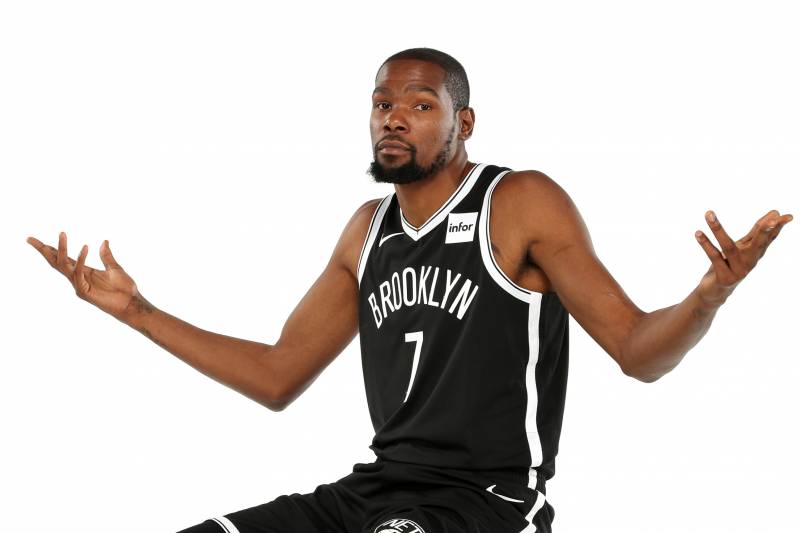 This 31-year old two-time NBA All-Star MVP is like no other. He was traded by the Brooklyn Nets last year from Golden State Warriors. With a 6 foot 11 inches length, Kevin Durant has been an efficient power forward player who takes advantage of his wingspan. Because of this, Durant is instrumental in blocking, which led the Nets to record an impressive offensive scoring.
Anthony Davis
After a 7-year career with the Pelicans, Anthony Davis has been traded by the Los Angeles Lakers as their power forward for the upcoming NBA season. Davis is also one of the NBA players who consistently improved every year when it comes to scoring. Besides, he has been awarded as a seven-time NBA All-Star accomplisher.
James Harden
If you are looking for the best offensive players in NBA history, then James Harden is your man. He has joined the Houston Rockets since 2012 as a shooting guard. In his 8-year career with the Rockets, Harden can create ways to make his offensive skills unpredictable most of the time, which makes it harder for other players to hustle on the floor.
Stephen Curry
Although Stephen Curry had missed a lot of plays in the NBA season last year, he is still one of the best players to anticipate. His durability as a point guard for GSW since 2009 are top-notch. Curry has won three NBA titles, a two-time NBA MVP Awardee, and a six-time NBA All-Star accomplisher.
Luka Doncic
At 20, Luka Doncic joined the Dallas Mavericks as a guard and has shown a performance that even LeBron James can't do. He is one of the players who can show impressive defensive skills and is useful in three-point shooting. Doncic was the NBA Rookie of the Year last season, and you can be sure that there's a great future ahead of him.
Russell Westbrook
Completing the lucky nine best NBA players in the current league is Russell Westbrook. His ferocity and intensity playing as a Point Guard for the Houston Rockets are still unmatched. Westbrook is a multi-awarded NBA player, including a nine-time All-Star NBA and MVP Award in 2017.
Takeaway
Aside from the matches and rival plays in the upcoming NBA season, the fans can look forward to the players representing the same team or trade to another group. Given the nine toughest NBA players to watch out for, the NBA will surely be more intense than its previous seasons.