Will Usman vs McGregor Fight Happen – Yes/No?
In recent days UFC world hit the news of a grandiose fight between Kamaru Usman vs McGregor. Find out if the fight is likely to happen or it's just a rumor.
Some people say McGregor is not worth the belt fight, others claim it's not his weight class and that the lightweight champion will not do too well.
The fact is that Usman vs McGregor has a potential to be a grandiose fight. It wouldn't be the first time McGregor stepped outside of his comfort zone and fought arguably undefeatable opponent.
Remember his boxing match with Floyd Mayweather?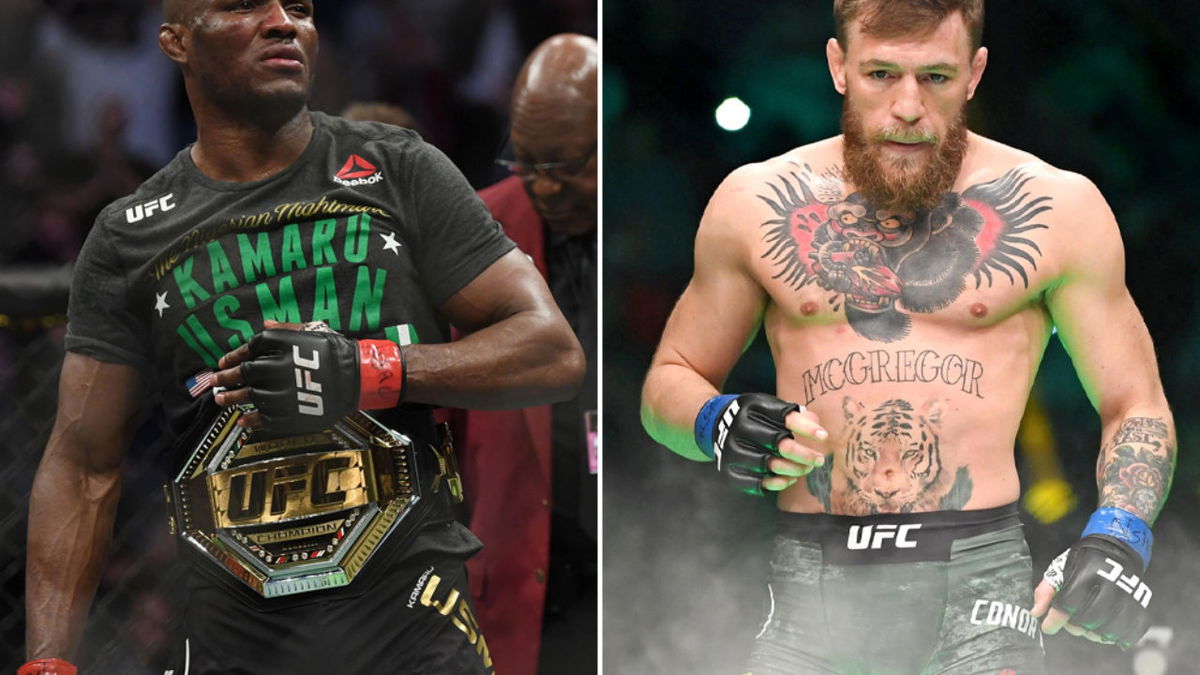 In a chat with ESPN MMA's Brett Okamoto, 'The Nigerian Nightmare' said, "This will be history. Like I know a lot of people are trying to s**t on it like Conor doesn't deserve it. Okay, but the next guy they would be deserving of the fight would be Leon Edwards. He can't get into the country. So what?"
Moreover, Okamoto pointed out the incredible one-man show in UFC 246 – Connor McGregor 41-second decimation of Donald Cerrone at Welterweight class.
"If Conor can make this fight happen, why wouldn't we fight Conor? He just fought at 170. He looked great. Like Cowboy Cerrone beat a lot of guys that were ranked at 170. He did very well at 170 and Conor went out there and starched him. Obviously I like Cowboy, and he's my guy. But Conor went out there and got the job done in less than a minute. So how can people sit here and say Conor is not deserving?"
Kamara Usman silenced his doubters in UFC 245 vs Covington. It was a greatly anticipated fight with a lot of promise to get to record books, however, Usman didn't let Covington seize the opportunity.
Usman vs McGregor – Yes!
Kamaru Usman is a beast and hasn't found a UFC fighter that could beat him. Could McGregor be the one? Probably not…
But, there is always a but. If McGregor trumped over the Champion he would sure rewrite UFC and combat sports history.
Usman vs McGregor fight will be one of the most watched UFC events ever. Fans will want to see this fight, betting sites and UFC will want to see it happen. The hype will be massive!!!
McGregor vs Usman – No
Kamaru Usman may be a bit too much fro McGregor and McGregor knows it. It would not be too advantages for the 'Notorious' to fight a fighter of Usman's caliber and ruin his legacy.
McGregor cares deeply about his image and legacy and gambling it on a fight where all odds are stacked against him.
McGregor will be offered a massive chunk of money, no doubt about that but is the money risking his legacy?
McGregor #1 priority should be facing Khabib and trying to get a rematch. It's unlikely that he will be able to fight Khabib for a long time after a fight with Usman, whether he wins or loses.
Explore More Sports Stories
The Whitecaps at LAFC came out strong scoring the first 2 goals of the match. Bob Bradley's side would battle back late
The Whitecaps at LAFC Match Preview will see Vancouver looking to continue their recent success again Saturday, July 24th. The Vancouver Whitecaps
As I sip the last bit of coffee preparing to get in the car and drive up the PCH to the Cowboys
Thank you for being here – We would like to ask for your help.
Sports Talk Line's independent sports journalism is a unique offering in the world of sports
. As we bring you independent sports content WE MADE A CHOICE and unlike many sports news organizations, we have chosen a methodology to operate that allows every reader access to this much needed independent reporting. We are sports fans ourselves, not suits on 5th avenue.
Every contribution, large or small, directly supports independent sports journalism
. Your support is what allows our incredible group of freelance writers to continue to hone their craft and bring you accurate sports news. But there is always a new month. We have to continue to receive support from our readers in order to keep this alive. Help us make independent sports journalism an ongoing reality. 
Click here to Support Sports Talk Line for as little as $1
– only a moment of your time to help keep independent sports journalism alive  – Thank you.